Aims and Scope
Mohamed Abuzakouk, Omar K.H.A. Ghorab, Ali S. Wahla, Zaid Zoumot, Mohsen Nasir, Deepa Grandon, Mateen H. Uzbeck, Fulvio Salvo, Irfan Shafiq
---
Introduction:
Several biologic agents have been approved for the treatment of asthma, chronic urticaria and atopic dermatitis. These therapeutic agents are especially useful for patients with severe or refractory symptoms. We present the real-life experience of four of the commonly used biologic agents in the United Arab Emirates.
Methods:
In this retrospective observational study, we reviewed the demographic, clinical, laboratory and treatment parameters for all patients treated with biologic agents.
Results:
270 patients received biologics at our centre between May 2015 and December 2019 with a median age of 36.5 years. Omalizumab was the most prescribed agent (n=183, 67.8%) followed by dupilumab (n=54, 20%), benralizumab (n=22, 8.1%) and mepolizumab (n=11, 4.1%). Urticaria was the commonest treatment indication (n=148, 55%) followed by asthma (n=105, 39%) and atopic dermatitis (n=13, 5%). All chronic urticaria patients were treated with omalizumab and showed improvement in the mean urticaria control test score from 6.7±4.47 to 12.02±4.17, with a p-value of 0.001. Dupilumab was found to be the most commonly prescribed drug for asthma (37%), followed by omalizumab (32%), benralizumab (21%) and mepolizumab (10%). The mean Asthma control test score for all asthmatics combined increased from 17.06 ± 5.4 to 19.44 ± 5.6, with p-value 0.0012 with treatment; FeNO reduced from 60.02 ± 45.74 to 29.11 ± 27.92, with p-value 0.001 and mean FEV1 improved from 2.38L ± 0.8 to 2.67L ± 0.78, with p-value 0.045. Only 4 patients in the entire cohort reported adverse events.
Conclusion:
Our study demonstrated that biological agents are a safe and effective treatment for atopic asthma, chronic urticaria and atopic dermatitis.
---
December 31, 2020
Nikita Trembach, Igor Zabolotskikh
---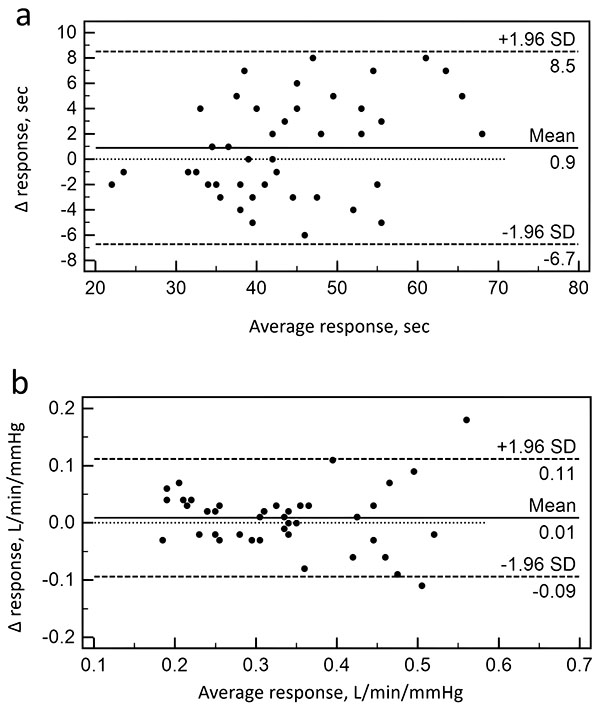 Background:
The sensitivity of peripheral chemoreflex is a marker of the severity of heart failure and the prognosis of the outcome in these patients. The assessment of chemosensitivity in these patients remains an actual problem.
Objective:
The aim of the study was to explore the relationship between a Breath-Holding Test (BHT) and single-breath carbon dioxide test and to evaluate the reliability of both tests in patients with Heart Failure (HF).
Method:
The study was performed in 43 patients with chronic heart failure. All subjects underwent BHT and single-breath carbon dioxide (CB-CO2), the evaluation of both tests was repeated a month later. Relationship of two test was evaluated by correlation analysis. Reliability was assessed with calculation of Standard Error of Measurement (SEM), Coefficient of Variation (CV) and Intraclass Correlation Coefficient (ICC).
Results:
The duration of the breath-holding was inversely correlated to the result of CB-CO2 test (r = -0.86 at first measurement and r = -0.79 after a month) The ICC was 0.87 (95%CI: 0.78–0.93) for SB-CO2 test and 0,93 (95%CI: 0.88–0.96) for BHT, the CV was 24% for SB-CO2 and 13% for BHT. SEM for SB-CO2 test was 0.04 L / min / mmHg and limits of variation was 0.11 L / min / mmHg; SEM for BHT was 3.6 sec and limits of variation was10 sec.
Conclusion:
Breath-holding test is a reliable and safe method for assessing the sensitivity of peripheral chemoreflex to carbon dioxide in patients with heart failure.
---
December 27, 2017