Aims and Scope
Mona Reda, Dina Ruby
---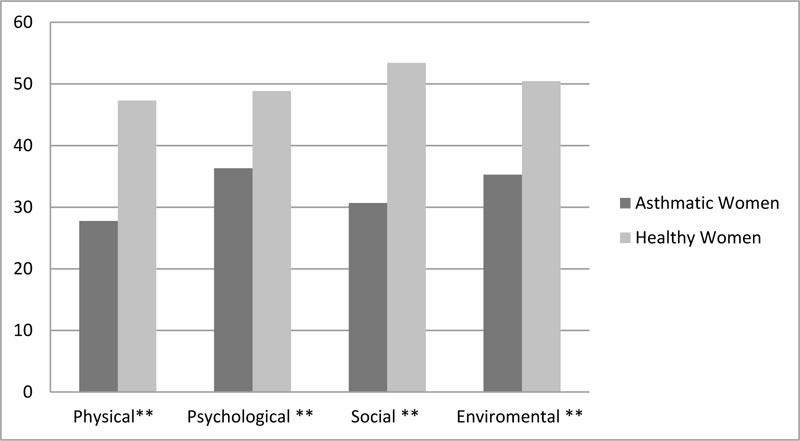 Background:
Despite asthma being a worldwide disease, still little awareness regarding the sexual function of asthmatic patients exists. So this study attempts to assess the Female Sexual Dysfunction (FSD) amongst Egyptian females with asthma and its burden on their quality of life.
Materials & Methods:
The sample consisted of 180 subjects, comprising 90 asthma patients and 90 healthy controls aged between 20 - 45 years old, who visited the Chest Department Outpatient Clinic of Ain Shams University Hospital between January and December 2018. We reported all the subjects' demographic and clinical data; both groups answered an Arabic version of the Female Sexual Function Index (Ar FSFI) and World Health Organization Quality of Life Questionnaire abbreviated version (WHOQL-Bref).
Results:
90% of asthmatic females had FSD; total Female Sexual Function Index score was 12.956 ± 10.3 in asthmatic females compared to 25.423 ± 5.521 in healthy controls; 45.6% of asthmatic females with sexual dysfunction had moderate asthma and 86.4% had uncontrolled asthma, 40.1% of them had a low educational level and 80.2% were unemployed.
Conclusion:
Jobless females with severe uncontrolled asthma and a low educational level had higher sexual dysfunction and a poor quality of life.
---
October 23, 2020
Nikita Trembach, Igor Zabolotskikh
---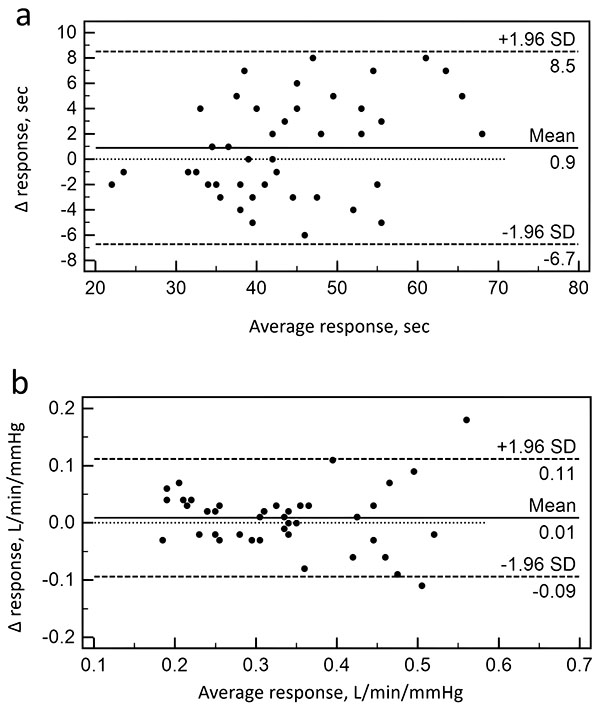 Background:
The sensitivity of peripheral chemoreflex is a marker of the severity of heart failure and the prognosis of the outcome in these patients. The assessment of chemosensitivity in these patients remains an actual problem.
Objective:
The aim of the study was to explore the relationship between a Breath-Holding Test (BHT) and single-breath carbon dioxide test and to evaluate the reliability of both tests in patients with Heart Failure (HF).
Method:
The study was performed in 43 patients with chronic heart failure. All subjects underwent BHT and single-breath carbon dioxide (CB-CO2), the evaluation of both tests was repeated a month later. Relationship of two test was evaluated by correlation analysis. Reliability was assessed with calculation of Standard Error of Measurement (SEM), Coefficient of Variation (CV) and Intraclass Correlation Coefficient (ICC).
Results:
The duration of the breath-holding was inversely correlated to the result of CB-CO2 test (r = -0.86 at first measurement and r = -0.79 after a month) The ICC was 0.87 (95%CI: 0.78–0.93) for SB-CO2 test and 0,93 (95%CI: 0.88–0.96) for BHT, the CV was 24% for SB-CO2 and 13% for BHT. SEM for SB-CO2 test was 0.04 L / min / mmHg and limits of variation was 0.11 L / min / mmHg; SEM for BHT was 3.6 sec and limits of variation was10 sec.
Conclusion:
Breath-holding test is a reliable and safe method for assessing the sensitivity of peripheral chemoreflex to carbon dioxide in patients with heart failure.
---
December 27, 2017